Merry Menage!
Welcome to the
Merry M

é

nage Blog Hop
!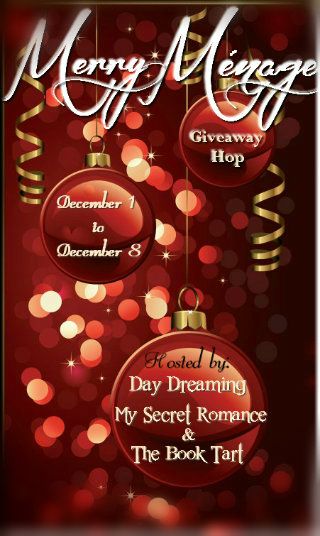 For those who don't know me, I write hot romance and yes, some of them feature M
é
nage
à
trois romances. Now, that can mean a variety of things - that can be a one-time sexy threesome; or a long-term committed m
é
nage
à
trois relationship. It can be two girls and a guy, or two guys and a girl (or three of the same sex, although I've never written that :-)
The first ménage book I wrote was an F/F/M ménage (Love Me) about a woman who's a little bi-curious and gets carried away with some girl on girl flirting. (STEAMY FACTOID: Although a few readers considered what she did to be cheating on her partner, a recent survey by Glamour Magazine indicates that 86% of men would not consider it cheating if their partner made out with another woman.) Isn't the F/F/M ménage the ubiquitous fantasy, especially for men? But hey, lots of women are curious too.
Then I realized how popular the "two men, one woman" fantasy is. (And how hot it is.) So I decided to try writing one of those. My first ménage book with two men was Conference Call, a M/F/M ménage where a threesome spontaneously happens while they're all away at a conference. Two of the three go on to have a relationship, but probably never another threesome. That's the one-time-only threesome that will never happen again
Then I saw the popularity of the M/M/F fantasy (and M/M romance in general) and I decided to explore that too. In that first M/M/F ménage (2 Hot 2 Handle) the men were a committed couple who wanted a woman to complete their relationship. The three of them live together happily ever after.
Now, I have to say in my mind, the "HEA for all three" story is a little unrealistic. Or even a lot unrealistic. Sure, from the woman's perspective, having two men around would be a good thing when the furnace breaks down or the car has a flat tire. I know my husband isn't around enough to keep up with all the household repairs that need doing. A second husband could be great. And that's not even in bed! If you like men, why wouldn't two be better than one? Two mouths for kissing, nibbling and sucking. Four hands for caressing and rubbing and exploring. Nice. With two guys, stamina (ahem) wouldn't be an issue. Think of the multiple orgasms!
But from the men's perspective? Seriously, how many dudes are willing to share their woman with another guy?
In real life, I think it's pretty far-fetched. As a writer, though, that just challenges me to write that story and make it believable!
My two most recent menage books are One Wicked Night and Rule of Three. Both are M/M/F menage stories, but again they're different. In One Wicked Night, the men were in a relationship of sorts, but didn't expect to spend their lives together. Tyler always figured one day he'd meet a woman he'd fall in love with, get married and have kids. I won't give away the story by telling the ending. In Rule of Three, a man and a woman are a committed couple and a second man joins in.
And my next
ménage

book coming out in January, With Strings Attached, involves another threesome that doesn't end in a committed relationship between all three. This kind of scenario seems more realistic to me, but the popularity of the HEA for all three characters can't be denied.
One type of ménage story I haven't written is F/M/F. Somehow from the woman's perspective that doesn't seem so appealing, and assuming most readers of romance are women, that one might not go over so well.
What's your preference? F/F/M? M/F/M? M/M/F?
I'm giving away winner's choice of any of my
ménage

stories - check my website to find out more!
a Rafflecopter giveaway