Hot Jocks in July Blog Hop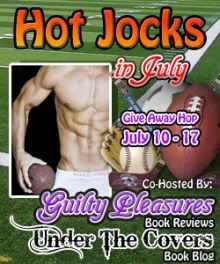 Welcome to the Hot Jocks Blog Tour! I'm giving away winner's choice of one of my "hockey books" - Breakaway, Faceoff, and One Man Advantage.
These books feature hot hockey player heroes - the Heller brothers, Jason, Tag, and Logan. They're connected stories that do stand alone, but if you haven't read them you might want to read them in order. You can find blurbs and excerpts and reviews of these books at
my website
.
I grew up watching hockey with my mom and my grandma (her mom) on television every Saturday night – Hockey Night in Canada. Strangely my dad wasn't all that interested in hockey and used to nap on the couch during games. As a teenager, my first boyfriend played hockey and I used to go watch some of his games. He also liked to go to live games, and our local team was the Brandon Wheat Kings (yes, we lived on the prairies
J
). I remember sitting in the Keystone Centre watching the Wheat Kings while my boyfriend patiently explained what icing was, why they just gave a penalty and what made a play offside. I think I tried to be interested mostly because I wanted him to like me, but it somehow turned into a real love of the game!
When I started writing romance, I wanted to write a story with a hockey player hero, but hesitated because I kept hearing you shouldn't write about heroes who are professional athletes. Athletes are big and muscular and strong. When they're successful they're confident, wealthy and famous. Are these heroic qualities?
Well, big muscles and a sexy smile are important for a romance hero, but qualities of determination, passion, loyalty, dedication, sacrifice and courage are important for heroes too. And don't professional athletes have all those?
What athlete romance heroes have you fallen in love with?